Hi all,
some pictures of my bikes
hope you enjoy! (warning, first three are not cafe racers

)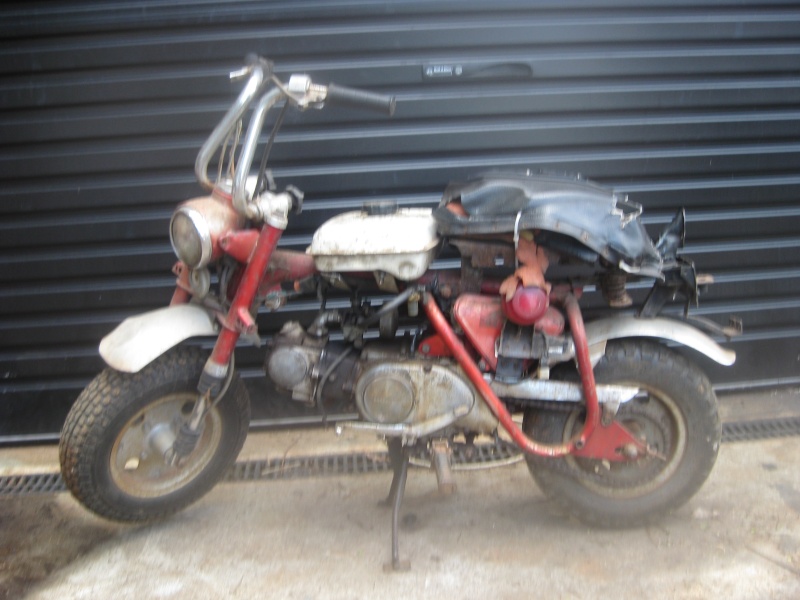 This is the bike i leared to ride on, a 19(60's/70's?) honda z50a, got it from my grandpa who used it for a golf kart (hence the tailight as it was placed on the back of his car)
modifications include: extra foam for the seat(original, but very tatty), a sidecart and mounting (sidecar was removed about 10 years ago, as i did not fit anymore

), and a fuel tank from a lawnmower, as the original is rusted very badly.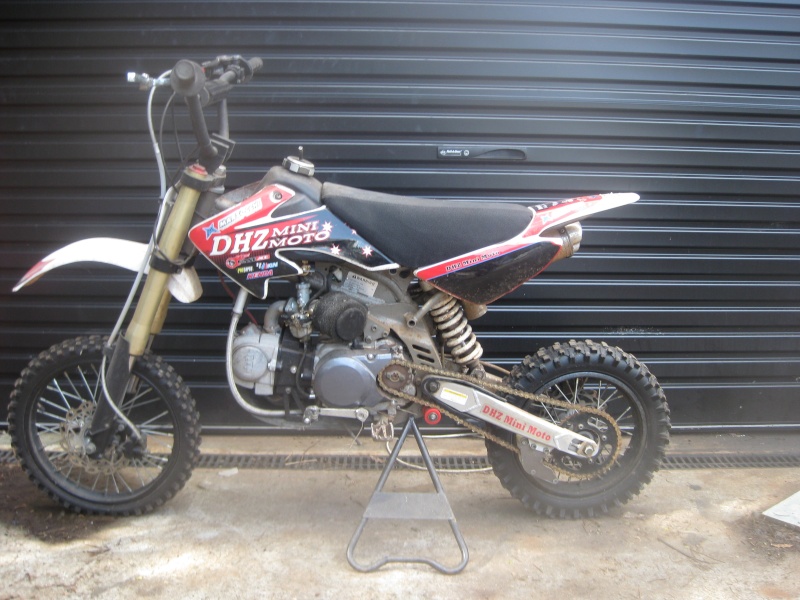 This is my first bike (that i bought), it is a chinese copy of a crf50, it has a 140cc lifan motor in it which kicks back quite badly. mods to it include; alot of dust, dirt and water. Much fun has been had on this bike as we have 15 acres (about 5 is ridable on)

. Not bad for $800!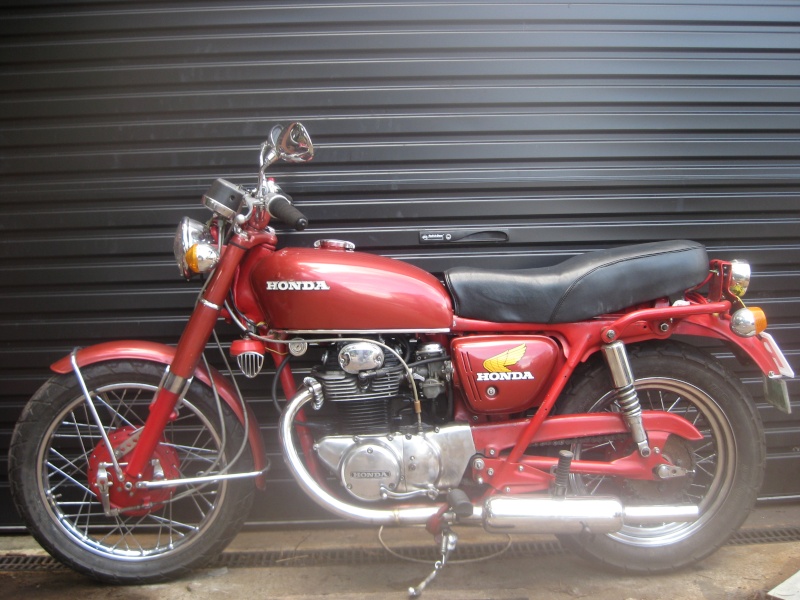 This is my second bike bought, a 1972 cb250/350. i bough it about a year ago, for cheap as chips (which we found out why when we got it home). the previous owners had spent <$4000 on restoring and modifying it, which included; chome everything, new paint, new rear wheel (16 inch), but alas, they rebuilt the motor themselves and had snapped one of the lh cyliders rings, and placed the bits in there, thats why it would not run properly.
About 4-6months later, it had been tranformed into a 350 (a 333cc really), from the help of my dad, a machine shop and the internet

, by then the mods to it include (which i did to it); 350 barrels, with home machined heads to suit, indian mufflers (suit a royal enfeild), matchless low-rise handlebars, electronic ignition, new wiring (thanks to dad and many hours of his time), lengthened seat and reupulstered (seat pan from a cb100), original cb350 rear shocks, repaired alternator, new tires
The trend in larger capacity upgrades stopped there, as my first motorbike i loved was an old seized s90 that i fell in love with as we were handing it over to it's new owners, handy huh?
so, after i had completed my cb250/350 project and my first car, (also a 1970's model,(a 1979 toyota corolla) which took about 3 years to finish) i wanted more (project wise), so my attention turned to an s90. What i eventually bought was almost an s90, a cd90z,(which for those in the know are almost exactly the same) and my plans now are to turn it into a full blown cafe racer

I recently have made a foam mould to make templates for an aluminium tank i am going to make, and stripped it down to modify it

enough talking, heres a photo of it with the mould and a cardboard seat
(and a supercharger from a small japanese car that my dad is putting on a 1942 indian scout)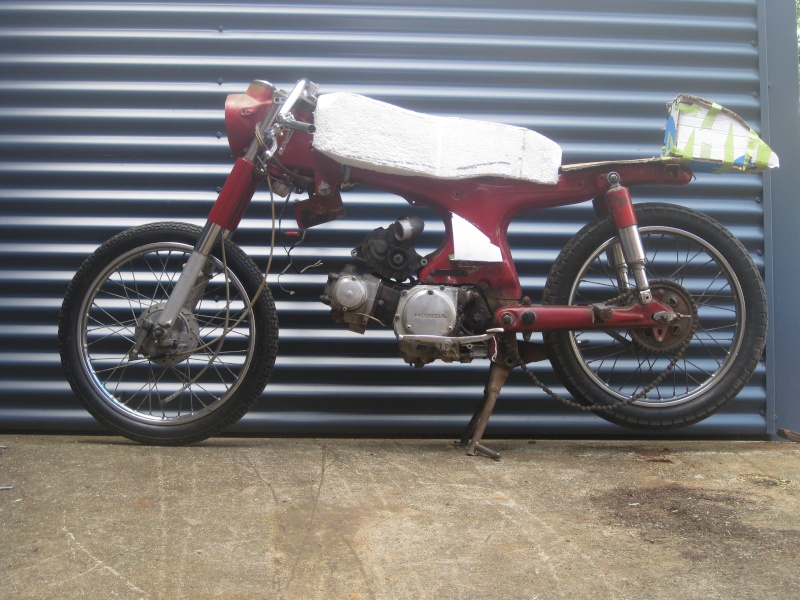 the mods i am going to eventually do to this one include: lifan 150cc (chinese motor), homemade rearsets, homemade oil cooler, smiths speedo and led dash (?) lights, dropped handlebars (the original ones upside down

), homemaded bar-end mirror, aluminium petrol tank, homemade seat, cb250 front wheel (same as my cb250/350 wheel), small rear shocks(from a c90 i think, the ones on there) homemade chain guard, red/black/polished aluminium paintjob, all new electrics, small scoops on the side for the oil coolers (the cardboard template is on there, they will be made from aluminium and painted the same colour as the frame, fire engine red), 32mm carb (spare from my cb250), homemade intake runner, homemade velocity stack (from copper pipe), new exhaust with megaphone style muffler, leather tank strap
and possibly in the future: supercharged 90cc (the stock motor), methanol
and quite possibly more!
thanks for looking
Max
Lazy Racer




Posts

: 12


Join date

: 2010-09-25


Age

: 24



Hi Max, some nice bikes, at the moment all moderators have discusion about "what`s a cafe racer" - and you are right - i think the two monkeys are not. The bigger Honda comes clother, and with a little bit screwing - it can be one. Think about the monkeys.
So dont stop working on the other bikes !! We wait for your progress.
Andreas
Moderator




Posts

: 597


Join date

: 2008-11-29


Age

: 56


Location

: North Germany



yes, the two first ones are definately not!
just farm bikes.
the cb might get the cafe treatment soon, once more monies have come into my back pocket
max
Lazy Racer




Posts

: 12


Join date

: 2010-09-25


Age

: 24



---
Permissions in this forum:
You
cannot
reply to topics in this forum