Beste
Zoals gisteren gezegd ben ik vandaag aan het avontuur begonnen om een moto (voor het eerst in mijn leven) te importeren.
Zoals (waarvoor dank aan het forum) toegelicht, is het vrij vlot verlopen en was alles vlotjes rond op het RDW om de moto te exporteren.
Na een lange rit vanuit midden Belgie naar Nederland en terug staat nu mijn
prachtige
"
roestbakje
" in mijn garage te wachten om gerestaureert te worden.
Hierbij een eerste blik voor de leden een Honda CB400N van 1978.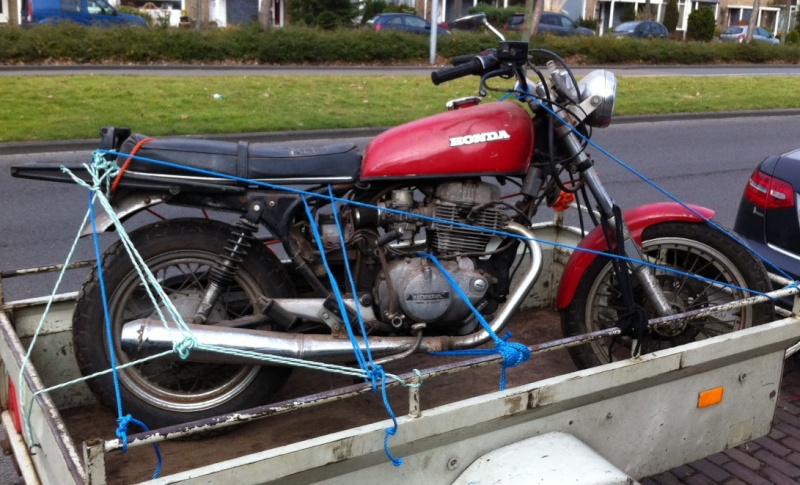 Novice Racer




Posts

: 22


Join date

: 2012-02-19


Age

: 45


Location

: Brasschaat



Hey Jo, (we like to speak in english cause of members across the globe)

great is they way you talk about getting your newest bike over here in good ol' brasschaat.

its a blast and its fun, congrats once more , a two cilinder is a way to go !

what are the plans with your machine, keep it stock , as you mentioned (wich is always good) or make it sligth different ?

cheers !!

p.s. ive got this strange feeling Holland is the way to go about 70's, 80's and 90's bikes,...they are (mostly) in great condition

i bet you didnt find any good cb400twin out here in Belgium ?

_________________
CB750 K6 '76 ; Work in Progress
Moderator




Posts

: 1698


Join date

: 2008-08-01


Age

: 36


Location

: Belgium, Schilde



Hey Toecutter

I would like to turn it into a cafe racer.
The reason why I've been looking for a 2 cylinder is because I have a Honda CBF500A which I use for day to day riding.
Since I don't know much about motorcycles I want to learn "all" about it, that's why I looked for a 2 cylinder that had a similar config.
And as I've been told making your hands dirty, reading a lot and trying-out will learn me more and more.

Indeed looking for a good twin at an affordable price is hard(er) in Belgium, and in Holland much easier.

cheers!!

ps: once I've started dismantling and cleaning the parts I'll let you all know.



Novice Racer




Posts

: 22


Join date

: 2012-02-19


Age

: 45


Location

: Brasschaat



---
Permissions in this forum:
You
cannot
reply to topics in this forum