o.k.
next step , the real BSA A65
the engine block i described earlier before this one was the BSA A10
now the word is to the BSA A65
first step the cylinder block, years of "no work to do "
is not so very well for the BSA, the most pitting work is from the moist
let's see to the cylinder head, and valves,
on the picture the left exhaust valve has a lot off pitting / wear.
And must be replaced, also the cyinders have pitting inside the cylinder.
The cylinder is standard size (75.00 mm) and must be resized to std + 020 or 040 inch
(0.51 mm or 1,02 mm )
the results off boring the cylinder on 020 and 040 are in the pictures below
finally the cylinder is skimmed (gevlakt) en honed (last picture)
more pictures follow in the next days/week
burner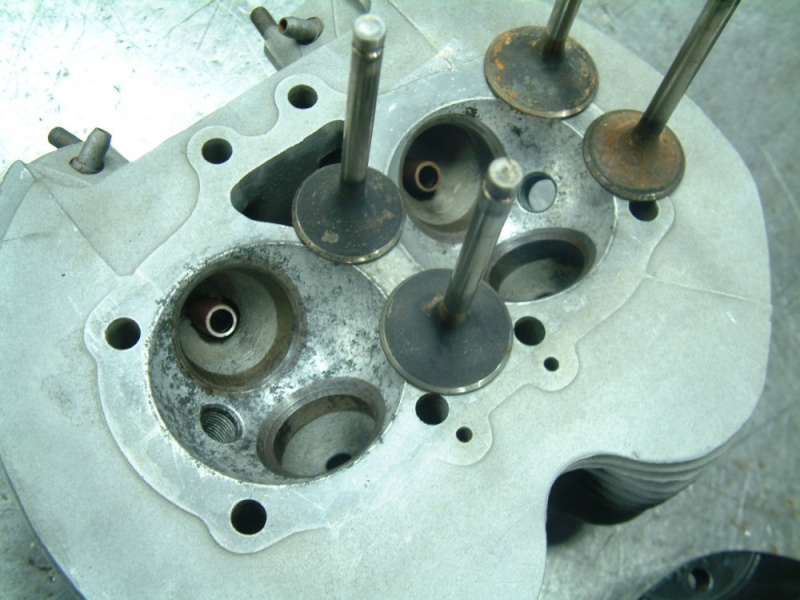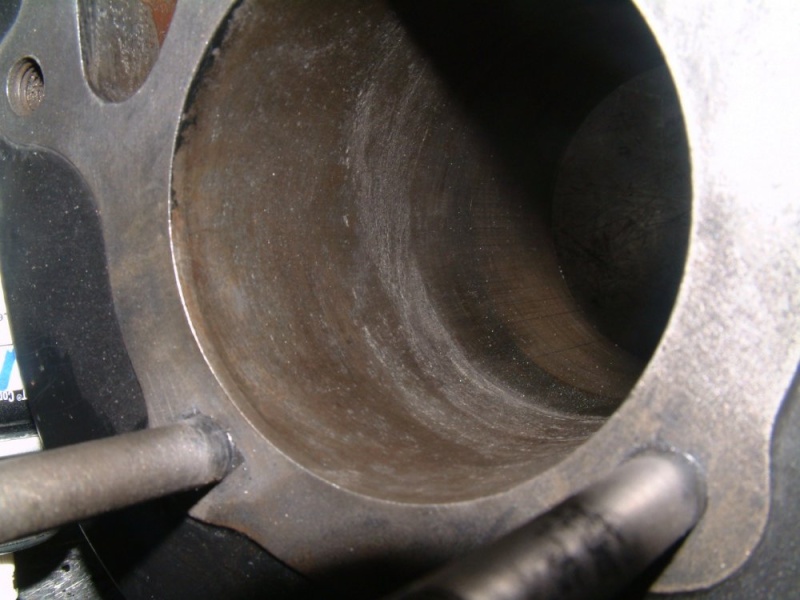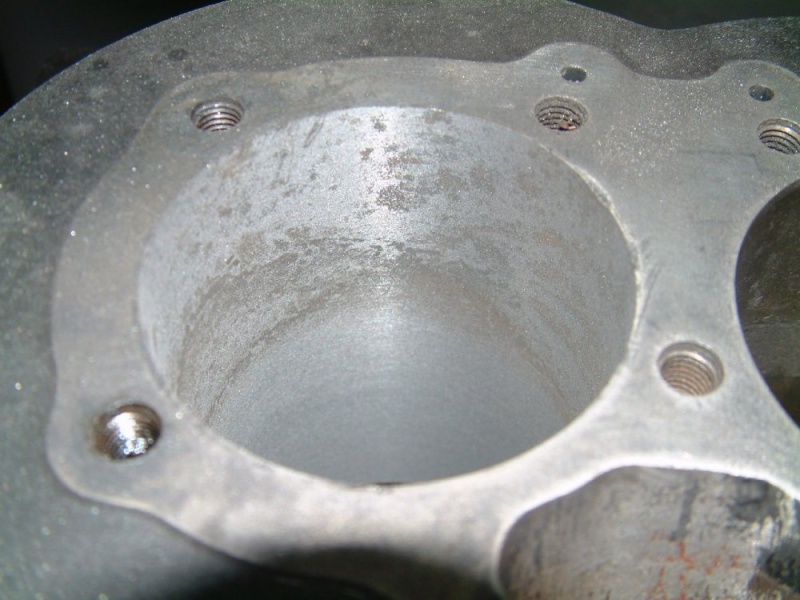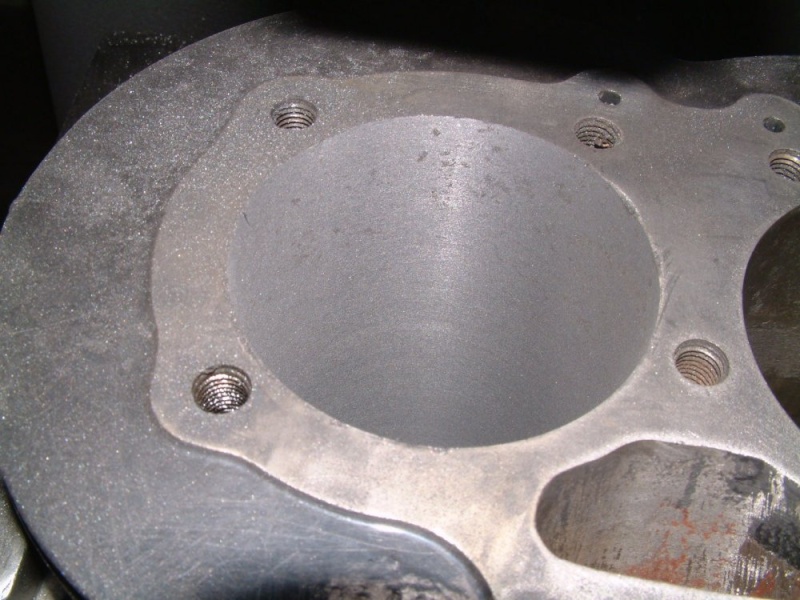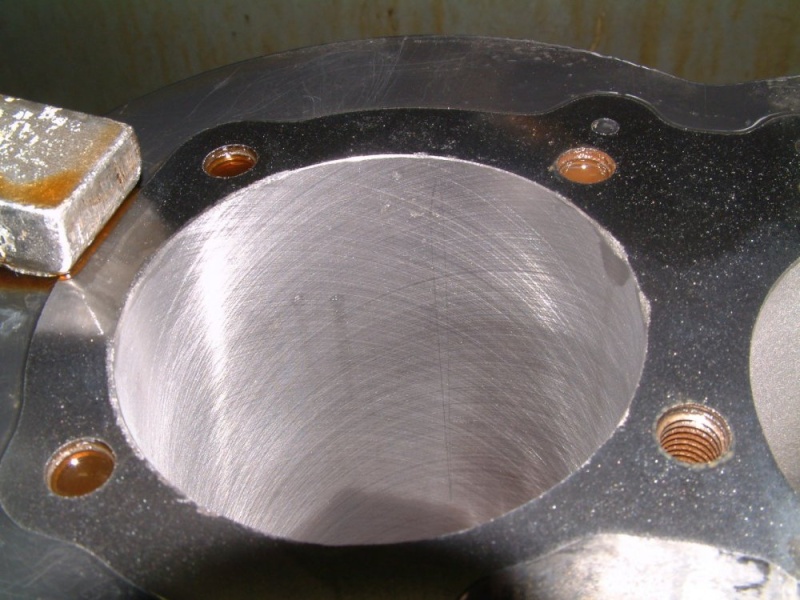 Last edited by burner on Tue 14 Apr - 21:21; edited 1 time in total
Great job.
Are you only doing old engines, or also newer ones,Honda CB's for example
Veteran Racer




Posts

: 210


Join date

: 2009-01-07



most of the time the older stuf,
cb or new-ones , only the cilinder-replacement
or cilinderhead overhaul.
once at a while a did a complete goldwing..its horrible
lot of time , broke pistons rings and so on..
i made special tools to fit the piston rings...
burner
Next issue, crankshaft...
First picture, after drawing out the crankshaft
oil-plug, ( the centre of the big-end shafts containing
the oil, normally to feed the big-end bearings)
the black sluts that is stays there after many years
could be dig-out out off the crankshaft using a pry-bar
I must mensioned that normally there is more dirt than
you see on the picture , so beware……
-- pfff engels is ook wat ,
beter is hollands, in de loop der tijd verzameld zich in de "dode"delen
van het olie circuit , allerlei prut , verdringt de olie en wordt hard..
zolang het blijft zitten is er niets aan de hand, maar als er te veel komt,
kan een drijfstang er uit lopen..door smering gebrek of vuil.
Bij demontage van deze krukas, ( de stop is uit het drijfstangtap gedeelte
gedraaid) komt er bij deze krukas relatief nog weinig "drek" vrij.
picture(s) below,
the main bearing must be replaced, and fix it with the diameter of the
(wrong) main shaft..
there are several ways to do this:
the way you do it, …..
wel take in mind that the house boring could be wrong, the replaced
bearing is like also wrong..
the placed bearing could be out of line…
and so on…
I replaced the inner bearing by a new –made one and after replacing
Boring the bearing in – line with the roller bearing on the other site
Than you can use a minimum off bearing clearance.
Hoofdlagers vervangen van een bsa is andere koek,
Meestal blijkt de grond boring, of de lagerboring niet meer rond te zijn,
Bij nameten zit er (bij deze) al zo.n 0.05 mm ovaliteit in,
dit kan je verhelpen door de grondboring, of de lagerboring opnieuw
rond te maken (grondboren), of het nieuwe lager later weer in lijn te boren
voor een geslepen krukas. ( immers beide helften van het motorblok komen
weer opelkaar) en dan moet de krukas weer vrij kunnen draaien met een speling
van ca 0.04 mm op het glijlager (hoofdlager)
is dit niet helemaal in lijn, dan zit de krukas vast.
In de praktijk neemt men een wat ruimer lager wel voor lief
En wordt een standaard lager (of overmaat ) zo overgezet,
De krukas op de ondermaat geslepen , en klaar .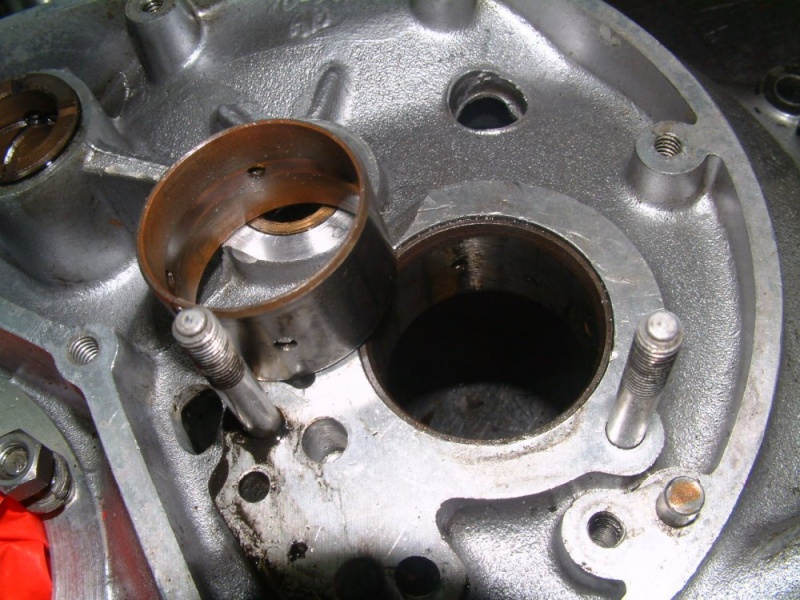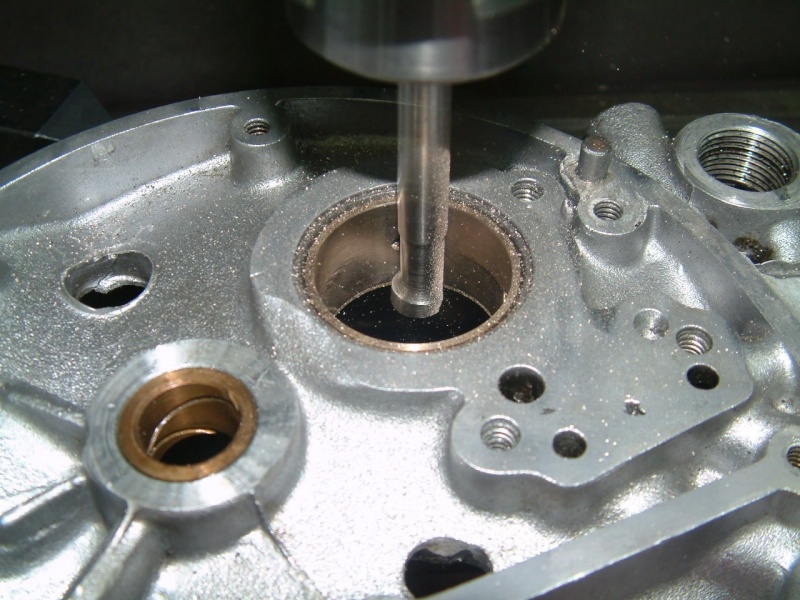 Burner you are a technician first class (i think so)

_________________
CB750 K6 '76 ; Work in Progress
Moderator




Posts

: 1698


Join date

: 2008-08-01


Age

: 36


Location

: Belgium, Schilde



That looks good work. How long was the engine not running?
Moderator




Posts

: 526


Join date

: 2009-02-22


Age

: 57


Location

: East Midlands, England



Wallace wrote:That looks good work. How long was the engine not running?
i do not have any idea , for over al lot off years i think...
it make no difference about the dirt in the crankshaft
it is always there ( except if it is new)
burner
vervolg bsa...maar even in het hollands dit keer
krakas is geslepen, en het (glij) hoofdlager vernieuwd,
nu de andere kant, onderstaand , wordt de oude rollager bus
vernieuwd, alles met de flam wat opwarmen, en dan "valt" de bus
er wel uit , de nieuwe plaatsen gaat net zo...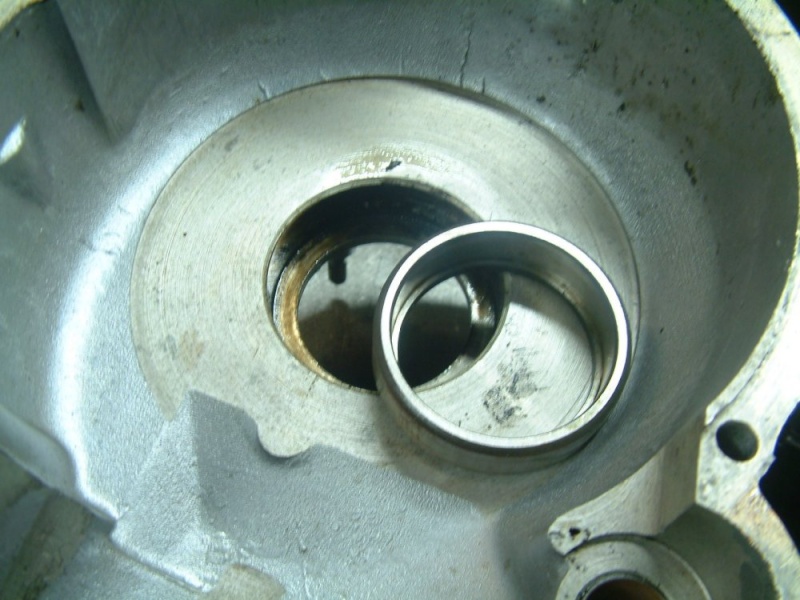 daarna de krukas plaatsen, en het axiaal afstellen, in dit geval
doe ik dat met een bronzen ring van de juiste dikte (eerst meten,
en dat de ring maken uiteraard)
daarna weer de krukas plaatsen en de speling opmeten / controleren
(ca 0.03 to 0.05 mm) eventueel nog even aanpassen
daarna de drijfstangen (klemspeling) meten,
dat verdient enig uitleg, de lagers zijn net iets groter dan de binnenkant van de drijftang
(dit geld trouwens voor bijna elke motor/automotor enz...)
hierdoor gaat het lager klem zitten , en kan door het onder spanning aanleggen in de drijfstang
zijn warmte snel kwijt. hieruit blijkt dat het lipje aan het lager geen enkel nut heeft,
althans niet anders dan de juiste plaats bepaling.
moderne lagers hebben daarom ook helemaal geen nokje meer (o.a. smart)
deze klemspeling kun je meten, door de drijfstang met het lager op de juiste spanning te draaien,
en daarna één zijde weer lossen, het lager drukt nu de drijfstang iets uit elkaar,
en dat noemt men de klemspanning.
die is te meten met een voelermaat , 0.05 tot 0.1 mm in dit geval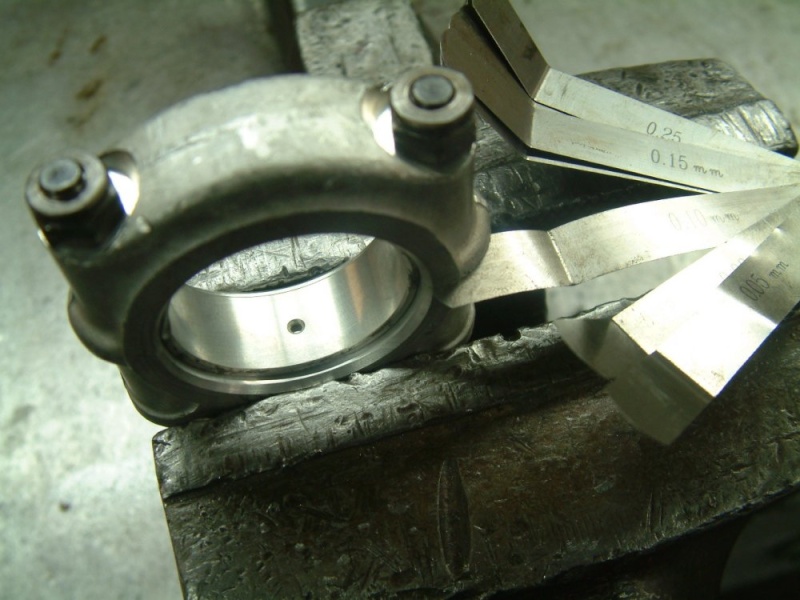 nu kan alles klaar gemaakt worden, onderstaand wordt een nieuwe krukaspijp gemonteerd
met een eindstop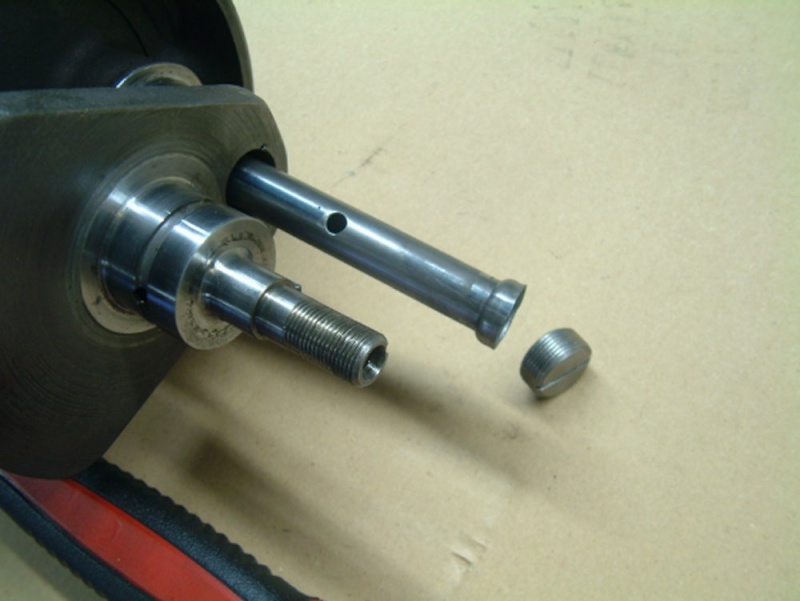 onderstaand , gereed voor montage incl nieuw rollager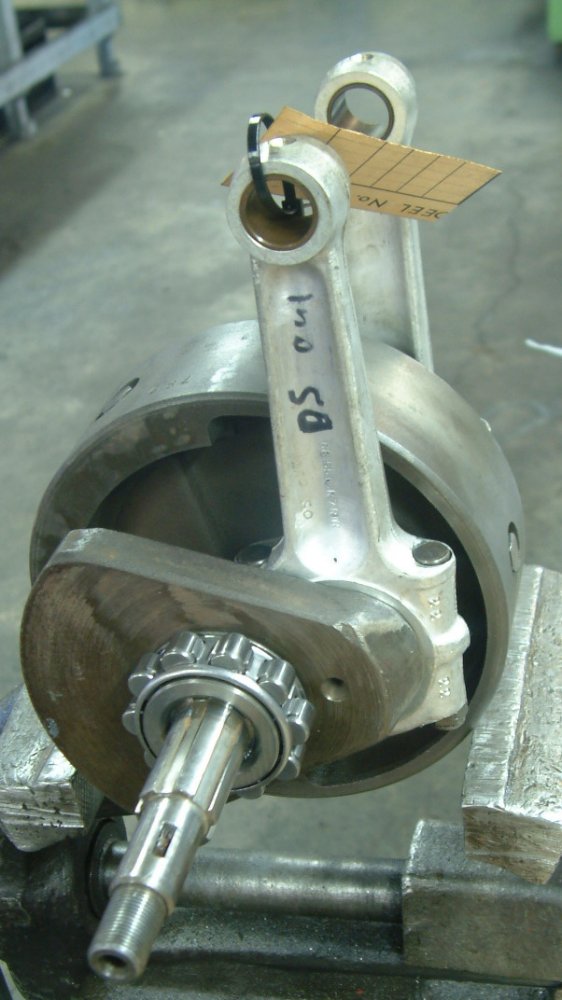 finally the cylinder head..
normally (always) replace the valve guides, look-out for (outside) oversized
or re-made valve guides.
in the years ago (and still) the guides where roomed , today the guides are honed to
final size (inside) ..
first picture ... old valve guides replaced
mentioned , that the contact wall off the valve to the valve-seat , are very close to the
inside of the inlet and outlet tube, so if there is a miss-placement off the valve guides,
you have to replace the valve seats by new seat–inserts ,
and restore a good valve contact against the seat.
in this case, the replacement
is inside de limit, and i will use the original valve seat.
down: only one seat finished cutting , so you can see the difrence,
next picture: two seats are done .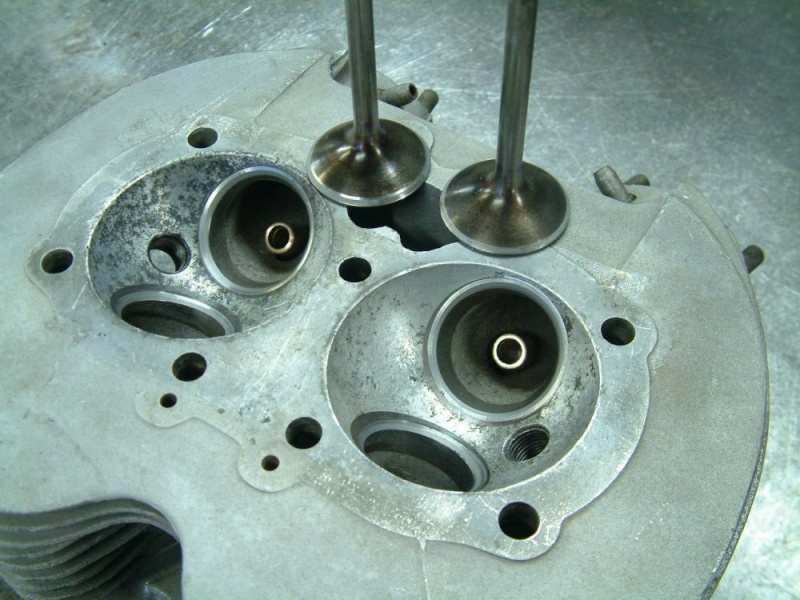 finally (down picture) , the head is skimmed, and cleaned, ready to fit the cilinderblok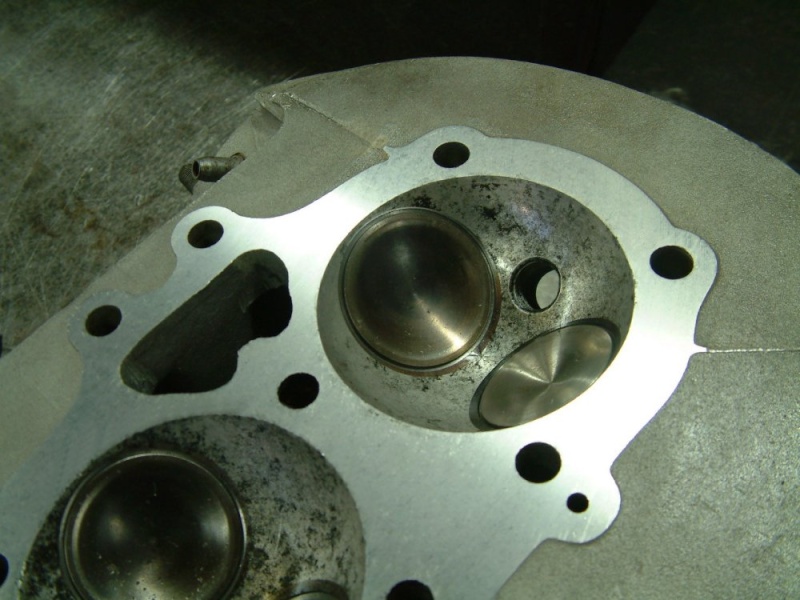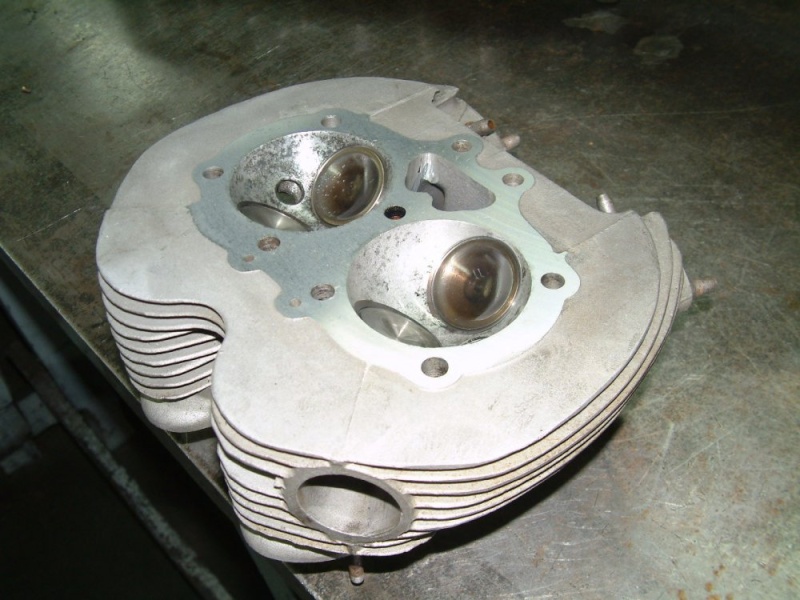 Sow thats really nice work!!!! I read it all twice!! Really nice to see!!

hope to learn those things someday!!
Moderator




Posts

: 625


Join date

: 2008-07-31


Age

: 28


Location

: zuid-limburg



---
Permissions in this forum:
You
cannot
reply to topics in this forum